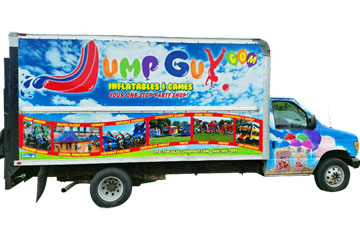 All About Jump Guy
Jump Guy is a special event and amusement rental company serving all of Chicagoland. We have been around since 1992 delivering fun and excitement to a countless number of families. Everything from Backyard Birthday Parties to School Events, and Company Picnics, we did them all. We have an excellent selection of inflatables like the popular bounce houses and water slides among many other attractions to choose from. At Jump Guy, we are committed to providing the highest level of safety and quality in our products and services. The quality of products we offer are made commercial grade lead free vinyl material by industry leading manufactures. Our inventory only consists of extremely safe, bright colorful fabrics, unique structures, attractive designs that guarantee your next event will be jumping. As our saying goes, "You Provide the People We Provide the FUN"
We understand that one of your highest priorities of planning an event is to provide guests with new and exciting attractions that won't break the bank. As we purchase products, we have the guests in mind which are mainly the kids so we are sure to have something for everyone. Our team of professionals can help you deliver a bigger and better event, while creating memories that'll last a lifetime. There will never be a dull moment at your event. Jump Guy has been providing our clients extraordinary fun and superior customer service at a competitive price. We are one of the most service-oriented organization in the industry. Let us help you create an event that's out of this world! Don't believe us? Just check out all of our social media outlets or Google us to see why are the most sought out company offering the best selection of party rentals. The 5 star reviews speak for themselves!
Why Choose Jump Guy Party Rentals?
We know there is a long list of choices when it comes to choosing a premier party rental company offering the latest attractions. So why choose Jump Guy? The short answer: We do our best to make your event a smashing success. We do that with..
Easy Rentals
Make real-time online reservations at your convenience. In your pajama's at 3 am? Sure. Prices and pictures are clearly displayed and within a few minutes you can rest assured your party rental is complete. As always, our friendly office staff is here to assist you during office hours.
Quality Equipment
When you rent a bounce house or inflatable game from Jump Guy, you get the cleanest, safest and largest selection in Chicagoland, and everywhere in between. Our crew does the delivery and set up letting you enjoy your event. All equipment is chosen for quality, safety and high fun factor.
Fully Licensed and Insured
When you choose Jump Guy you are promoting legitimacy and responsibility in your community. We are fully licensed, insured for your protection and have passed Illinois State's required inflatable ride inspection. We offer Licensed products, not knock-offs. If ever a Hello Kitty Bounce House is licensed, we'll be the first to own one. (Update: The Hello Kitty bounce was licensed and we have it!!)
Dependable & Experienced
Jump Guy is a full-time party rental business with an actual office you are encouraged to visit. Most of our event rentals are repeat customers. Their confidence in our service has kept us renting dunk tanks, obstacle courses, fun games and more to multiple generations these 20+ years.
An Excellent Value
When you put it all together with affordable prices you&'ll find Jump Guy an Excellent Value. Whether you want the best for your children, employees or friends, Jump Guy is the right choice.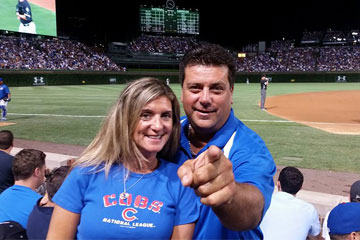 Meet the Owner's of Jump Guy
Hello, my name is Nicholas Boblewski and I am the owner of Jump Guy Party Rentals along with my lovely wife. Jump Guy have been in business serving the families in our community for 25 plus years. This company started with one guy, one jump and one dream. Over 25 years later, we have grown our business into what it is today, with over 150 different pieces of rental equipment.
I had the hardest time finding a good name for my company when one day standing on a customer's front porch ringing the bell to deliver one of my first jumpys a little boy started screaming mom!! Mom!! The Jump guy is here!! It hit me at that moment that was our new name, I am Jump Guy. I take pride in knowing all of my customers and making sure all of our events run smoothly and are a complete success. From competetive pricing to quality, new, clean and durable equipment, we take pride in our services. After 25 years I have made sure that our staff is professional, prompt & reliable. Our core staff is made up of local high school and college ladies & gentleman from our Community to do all of our delivery, set up and monitoring of your event. I hope you enjoy our new website and we look forward to hosting your next event. Be sure to see why Jump Guy is the premier company in all of Chicagoland!