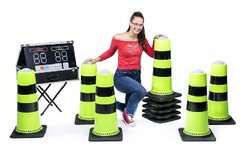 Battle Light Krazy Cone Game
$240.00
Dimensions: Size Varies Depending on your Configuration
Setup Area:
Outlets: No Power Needed on It's own Battery Pack
Monitors:
Age Group:
Rental Price: $240.00
Description:
Another great addition to the Battle Light Collection! Looking for a fast paced high energy game??? Take on the Battle Light Krazy Cones as you and an opponent race against the clock! One Person is Team Red, the other is Team Green. The object of this Hi-Tech, fast-paced game is to try to amass as many points as possible until the clock winds down. During the 45 Second duration of the game, ten (10) LED sensors with intense sound effects surrounding you and your opponent! Participants must tap their color as fast as possible to accumulate the most points to win the game. Be careful, though, as the LED sensor could change to your opponents color at any moment! Points are continuously tallied on the provided wireless scoreboard. Speed, accuracy, and head-to-head competition make this an addictive, high energy game for both kids and adults! Spread out the cones to create your own playing field, No Indoor/outdoor party is too large or to small for this new addition! No electric required!