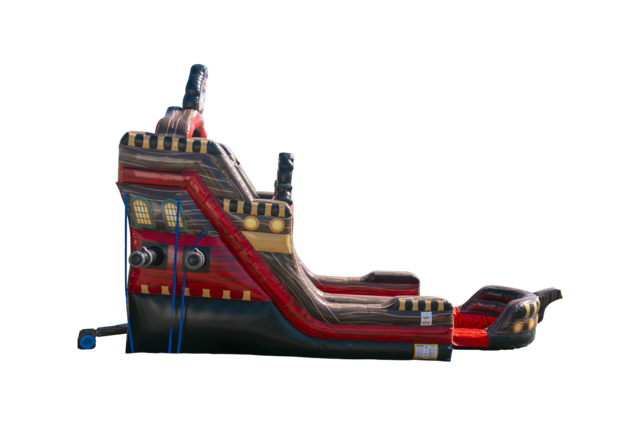 Introducing Our 22 foot tall Black Pearl Pirate Ship Dual Lane Dry Slide, the ultimate adventure for all aspiring pirates in Chicagoland! Get ready to set sail on an unforgettable journey filled with excitement, thrills, and plenty of fun.This impressive inflatable slide features a stunning pirate ship design, complete with towering masts, a realistic ship bow, and mesmerizing galleon ship accents. It's a true spectacle that will capture the imagination of both children and adults alike.
The dual lane setup allows two swashbuckling adventurers to slide simultaneously, adding a competitive element to the experience. Race your friends, family, or fellow pirates to see who can reach the bottom first. It's an exhilarating challenge that guarantees endless laughter and friendly competition.
Safety is our utmost priority, which is why this slide is equipped with safety features such as high side walls, sturdy netting, and non-slip steps. Parents can have peace of mind knowing that their little pirates are secure while enjoying hours of fun.Ideal for Block parties, schools / churches , summer camps, corporate events, or community gatherings, the Black Pearl Pirate Ship Dual Lane Dry Slide is sure to be the highlight of any occasion This slide is particularly popular with teenagers.
Renting this water slide is a breeze, as our team will handle the delivery, setup, and takedown. All you have to do is sit back, relax, and enjoy the pirate-themed adventure that awaits.Don't miss out on the chance to make your event truly unforgettable. Contact us today to reserve the Black Pearl Pirate Ship Dual Lane Dry Slide and embark on an epic - filled adventure in Chicagoland!