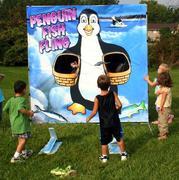 Penguin Fish Fling Frame Game
$59.00
Dimensions: 7ft. X 7ft.
Outlets: N/A
Monitors:
Penguin Fish Fling Game
Who does not love Penguins. This Penguin Fish Fling carnival game is sure to be a huge hit with kids of all ages! Children stomp on the launcher, flipping the rubber fish into the penguin's picnic basket. See how many you can get in!