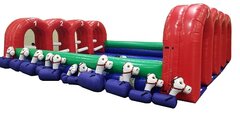 Fun Derby Track w/ 4 Horse Hops
$399.00
Dimensions: 36'L X 25'W X 9.5'H
Setup Area:
Outlets: 1 outlet needed
Monitors:
Age Group:
Rental Price: $399.00
Here they come spinning out of the turn!!!! Looking for a FUN high energy game??? Take on your coworks, classmates or your parents as you Hop to the Finish Line! The object of this FUN fast-paced game is to Hop your Horses to the end. Speed, accuracy, and head-to-head competition make this an addictive, high energy game for both kids and adults! No Indoor/outdoor party is too large or to small for this new addition!
Your Choice of 4 Horses choose from SMALL - MEDIUM - LARGE
Reserve Online Today!