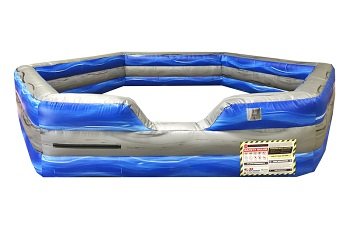 Available Booking Options
Actual Size: 20'L X 20'W X 4'H
Outlets: (1) Seperate electrical outlet, on its own curcuit, within 100ft. of the Inflatable Pit
Age Group: 4 & Up
Description
Have you ever wanted to try your skill in the 'GaGa Pit' With this Inflatable GaGa Pit interactive game you're going to get your chance. This fun game features six sides.
4 hour rental,

Great for Schools, Camps, Picnics, Corporate Events, and Backyard Bashes

Recommended for ages 4 and up

Delivered on time, everytime

Cleanliness guaranteed

Cancel anytime up until 8AM the morning of your event due to poor weather

Some travel rates may apply
Check out a video of the GaGa Pit in action!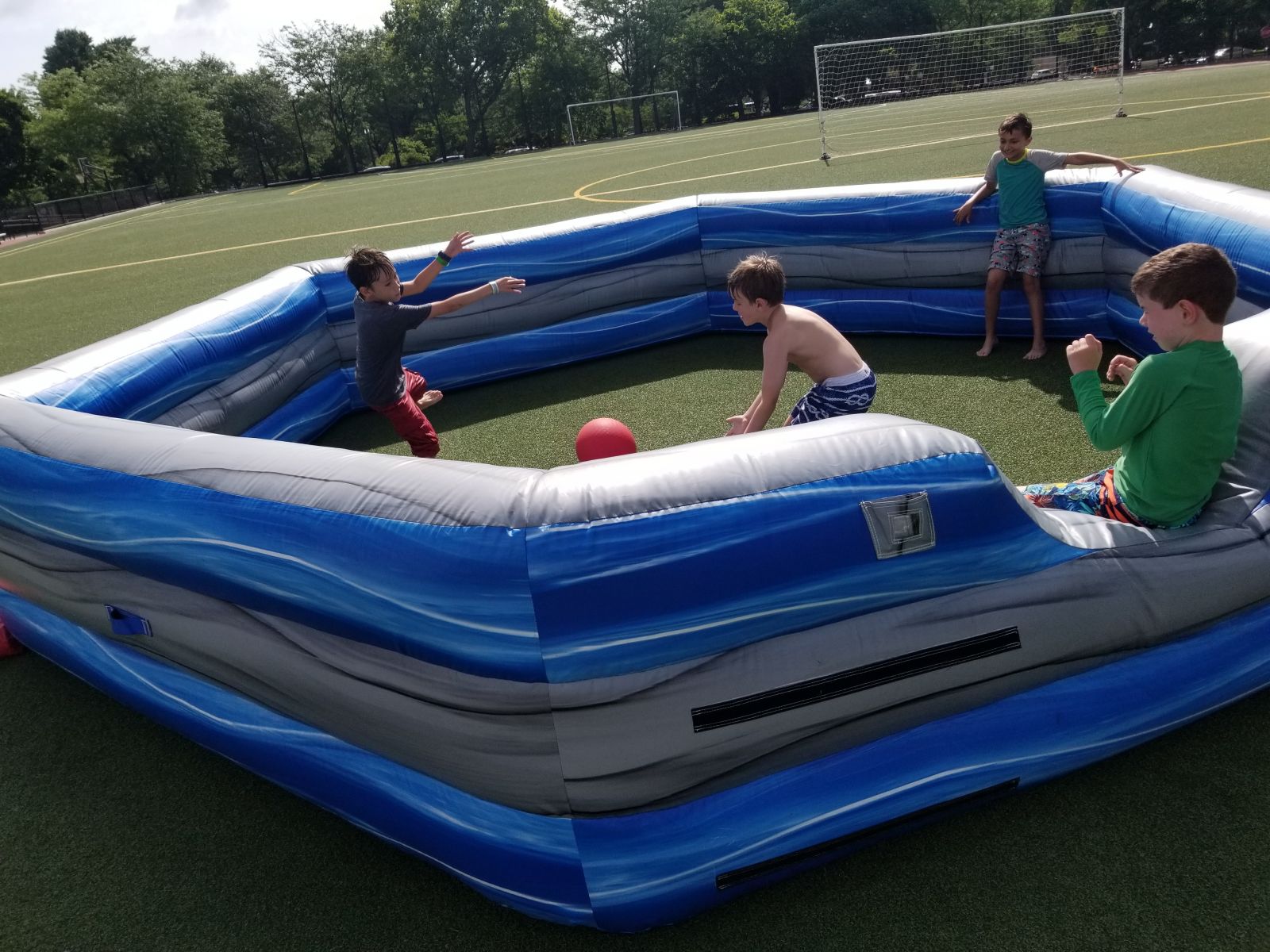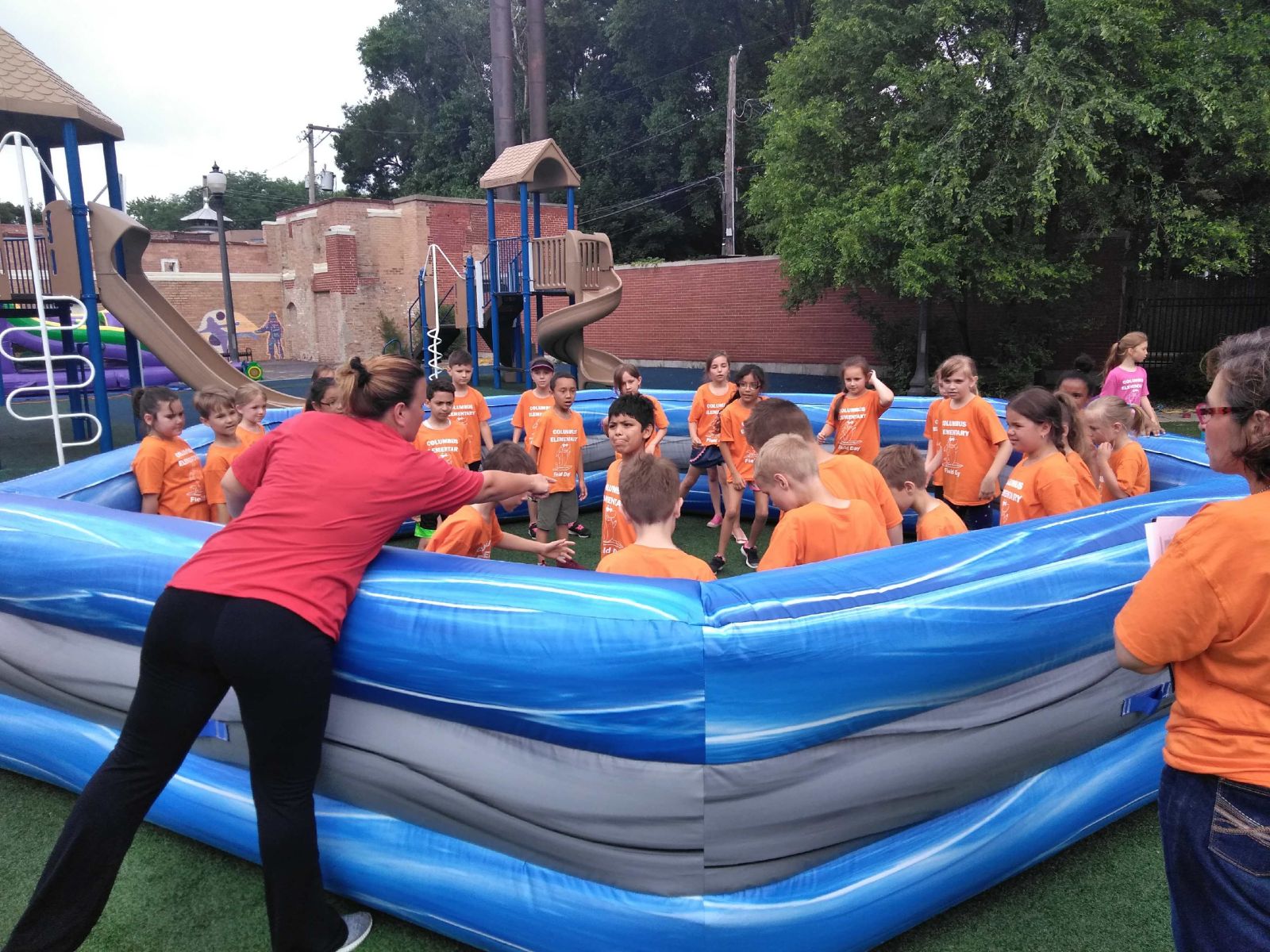 Dimensions 20'L x 20'W x 4'H
Gaga is a fast paced, high energy sport played in an inflatable enclosure or pit. The more players the better! Played with a soft ball, gaga game combines the skills of dodging, striking, running, and jumping, while trying to hit opponents with a ball below the knees. This game does not have a nottom. It is open.
Gaga Rules
Players start inside the pit touching one of the sides.
One player throws the Gaga Ball up into the middle of the Pit.
Players yell "Ga" each time the ball bounces and the ball is in play after the third bounce (i.e.,"Ga","Ga",Ga).
Players can hit the ball with an open hand, but cannot pick up or throw it. If you hit the ball with two hands, you are out.
If the ball touches a player anywhere on or below the knee, that player is eliminated - even if they last hit the ball themselves.
A player cannot touch the ball two times in a row - the ball must first touch another player or the pit wall or it is called a "double touch" and that player is out.
Players may not kick the ball since this means touching the ball below the knee.
If the ball is hit out of the pit, then the last player to touch the ball is out.
Players who are out must leave the Gaga Pit immediately.
The last player remaining is the winner and gets to start the next game.
Gaga Variations:
Domination Gaga
This variation is great for "leveling the playing field" among players of various ages and/or athletic ability. Gameplay is as above except that when a player gets "out", any player who was previously gotten out by that player can re-enter the pit.
Mayhem Gaga
Use up to 4 balls for this game (different colored balls work best to help keep track of "double touches"). Players may not see it coming!
Dodge Gaga
If a player catches the ball in the air, the last person to hit the ball is out.
Requirements:
Occupancy: 8
Dimensions: 20' L x 20' W x 4' H
Outlets: 1 Standard 110 volt GFCI outlets (12 amps total) within 100 feet of the unit. G
enerator
Rentals are available.
Setup: We would need to know specifically if it will be on grass or apshalt a minimum of 5 days prior to your booking. All anchors need to be secured using a stake or sandbag according the manufacture guidelines. We prefer to use ground stakes when possible, if this is not an option we will need to anchor using sandbags.

Setup Location:
1. Your setup location needs to be free of rocks, pet waste, sharp objects, or any other hazards.
2. We cannot setup under any utility lines and must have a clearance of 5 feet in all directions away from any obstacles.
3. Please make sure you clear a spot for us to park & unload the equipment as close to the location as possible. If your parking is further than 75 feet please notify our office or put it in the notes portion of your booking.



Includes:
Professional setup/tear down.
We have Liability Insurance
Pre and Post Event Cleaning, Sanitizing and Inspection
Staking and/or Sandbagging
Safety Training
Extension Cords (we bring out the extensions needed to get electric to the spot you are setting up in) Keep in mind we can only go 100 ft. maximum to the inflatable.