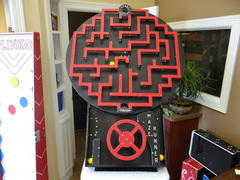 Maze Runner Game
$99.00
Dimensions: 39"L X 8"W X 53"H
Setup Area:
Outlets: None
Monitors:
Age Group:
MAZE RUNNER is a new and exciting game that challenges both your patience and your skills!
The object of the game is to guide your ball through the maze by spinning the maze via the wheel at the bottom
A timer box counts down your time with 2 different timing options-
180 seconds Longer/ Easier
120 seconds Shorter/ Harder
Just simply press the start button when you're ready.
In addition to the Maze Runner Game, we now have a variety of other games. Please call our office and our friendly staff can walk you through all the Interactive Games we offer.
Let us create a tournament style event for your guests. We can also create a custom gaming area by adding other giant games and interactive items to your event or carnival. We deliver all our Interactive Games to the entire Chicagoland area
53" X 39" X 8"
59 pounds
Can you master the Maze??