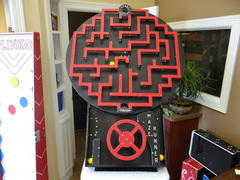 Maze Runner Game
$99.00
Dimensions: 39"L X 8"W X 53"H
Setup Area:
Outlets: None
Monitors:
Age Group:
MAZE RUNNER is a new and exciting game that challenges both your patience and your skills!
The object of the game is to guide your ball through the maze by spinning the maze via the wheel at the bottom
A timer box counts down your time with 2 different timing options-
180 seconds Longer/ Easier
120 seconds Shorter/ Harder
Just simply press the start button when you're ready.
53" X 39" X 8"
59 pounds
Can you master the Maze??