Star Wars Obstacle Course (WET)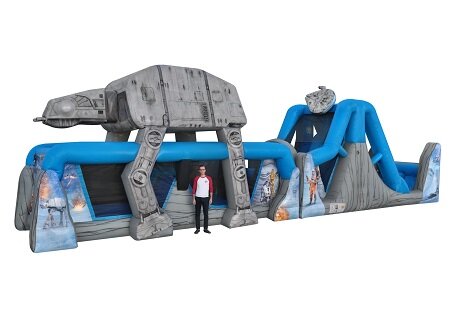 Actual Size: 50'L X 11'W X 16'H
Monitors: This item requires (1) Attendant to stay with the unit while in use. You may use your own attendant, or book an attendant with us.
Outlets: (3) Seperate electrical outlets, on its own curcuit, within 100ft.
Age Group: 3 & Up
Description
50ft. Long STAR WARS Dual Lane!
Inspired by a galaxy far, far away is JumpGuy official STAR WARS 50' Obstacle Course Wet or Dry with Imperial AT-AT and Millennium Falcon.
This 50-foot long Star Wars-themed Obstacle Course is two (2) pieces to make delivery and setup easier for our customers -- and it features a special non-slip material that JumpGuy uses for safe use with water. Piece #1 with entrance features Imperial AT-AT (All Terrain Armored Transport) bounce & obstacle area with small climber/slide and Darth Vader and Stormtrooper character obstacle pop-ups. Piece #2 features tall climber/slide unit with Millennium Falcon embellishment at top and a water misting system that sprays patrons as they slide down into the fun U- shaped splash zone. Exterior includes printable areas with character graphics.
Participants pretend to re-live the iconic Battle of Hoth in Star Wars: The Empire Strikes Back. Led by Darth Vader, the Imperial fleet have launched a large-scale attack to destroy the Rebel Alliance's Echo Base hidden on the remote ice planet of Hoth. As imaginary members of the Rebel Alliance, participants will enter the obstacle course challenge and race past the Imperial AT-AT (All Terrain Armored Transport), all while avoiding inflatable obstacle pop-ups of the villainous Darth Vader and his cold assault stormtroopers, as they've entered the base. Then, participants will evade the Imperial fleet and evacuate the base by powering through the tall climb and escaping down the slide while pretending Han Solo, Princess Leia, C-3PO and Chewbacca escape on the Millennium Falcon; and Luke and R2-D2 escape in his X-wing fighter.
Make the *jump* to lightspeed by featuring this officially licensed obstacle course in your rental inventory. It can be rented out in 6 ways: (1) 50' obstacle course; (2) 50' water obstacle course; (3) 25' combo unit; (4) 25' obstacle course; (5) 25' dual lane dry slide; (6) 25' dual lane water slide.
Designed in partnership with Lucasfilm and made with premium materials by master craftsman, the STAR WARS 50' Obstacle Course Wet or Dry is designed with fully licensed digital artwork and unique Imperial AT-AT and Millennium Falcon embellishments up top. It is an epic ride that is suitable for all occasions.
This dual lane 50 Foot long Star Wars obstacle course combines our 30ft. AT-AT obstacle course and the 25ft. Climb Slide to make an incredibly long and super fun day at your School, Party or Picnic. Race your Classmates, Co-Workers, Parents Teachers, Teens or small kids over 3 years old, through the entrance tubes, then make your way through the inflated biff and bash pillars, squeeze your way to the small climb, through more tunnels and up the Rock Climb and Slide to victory. And do it again and again. Don't be fooled by cheaper and smaller imitations this is the one they will scream about.
This unit is is great if you're looking to keep the kids moving, and challenging each other! This provides 2 lanes through the whole unit, allowing fun competition! Start out moving in and out of each obstacle, and finally zooming down the slide to see who wins!
Race your Classmates, Co-Workers, Parents, Teachers, Teens or kids over 4 years old.
4 hour rental, supervision required at all times

Great for Schools, Camps, Picnics, Corporate Events, and Backyard Bashes

Recommended for ages 5 and up

Delivered on time, everytime

Cleanliness guaranteed

Cancel anytime up until 8AM the morning of your event due to poor weather

Some travel rates may apply
Requirements:
Occupancy: 2 (1 in each lane)
Attendants/Monitors: This item requires (1) Attendant to stay with the unit while in use. You may use your own attendant, or book an attendant with us
Setup: We would need to know specifically if it will be on grass or apshalt a minimum of 5 days prior to your booking. All anchors need to be secured using a spike or sandbag according the manufacture guidelines. We prefer to use ground stakes when possible, if this is not an option we will need to anchor using sandbags.

Setup Location:
1. Your setup location needs to be free of rocks, pet waste, sharp objects, or any other hazards.
2. We cannot setup under any utility lines and must have a clearance of 5 feet in all directions away from any obstacles.
3. Please make sure you clear a spot for us to park & unload the equipment as close to the location as possible. If your parking is further than 75 feet please notify our office or put it in the notes portion of your booking.



Includes:
Professional setup/tear down.
We are registered with the State of Illinois Dept of Labor, Amusement Rides Division
We have Liability Insurance
Pre and Post Event Cleaning, Sanitizing and Inspection
Staking and/or Sandbagging
Safety Training
Extension Cords (we bring out the extensions needed to get electric to the spot you are setting up in) Keep in mind we can only go 100 ft max.