Affordable Dunk Tank Rental Chicago
Dunk Tank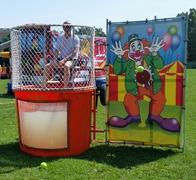 Who's ready for some revenge? Jump Guy has one of the best options for an affordable dunk tank rental Chicago events need! For over 25 years, we have been servicing all of Chicagoland with our amazing dunk tanks. We are serious when it comes to fun and nothing more screams it then a giant plastic tub filled with water. The fun starts with someone on the hot seat over 500 gallons of water. Although the dunking booth is a classic game which has been around for many years, everyone loves them at any event. The most popular events are along the lines of the larger events like school carnivals, church functions, corporate events, sports team parties or festivals. Not only does the person doing the tossing have fun but all others in attendance watching and waiting to see who will be the one to dunk the person on the hot seat.
While only one person can sit on the hot seat, it is still FUN for everyone involved. Imagine putting your coach, teacher, principal, boss, pastor, city official or anyone you want to dunk on the hot seat. Great for fundraisers with those on the hot seat. How about raising a little money for a chance to dunk the VIP? Our dunk tank rental Chicago suburbs has to offer is a local favorite for fundraising events!
Step right up and take your best shot at our target! Who thinks they have what it takes to dunk your favorite VIP? Typically, we provide 3 balls where each participant gets their change to toss the ball to hit the red circle target. These large practice softball type balls make it easier for any age group to test their skills. The typical distance from the target may vary depending on the participant tossing. If a participant hits the target, the person sitting on the hot seat gets a nice refreshing dip in our 500-gallon dunk tank rental in Chicago. All fun and games while everyone gets to enjoy and cheer on. Lots of laughter and memories will be made at your event.
Browse our selection below and get your dunk tank rental Chicago online, right here on our website. Don't forget to check out our carnival games to add a little extra entertainment to the event. We have something everyone will enjoy coupled with a carnival dunk tank!
Quality Choice for Dunk Tank Rentals Chicago
Jump Guy has some flashy new red dunk tank rentals Chicago area needs that are sure to impress your guests. A dunk tank rental Chicago is a sure-fire way to get loads of thrills for everyone at the party. Who's ready to sit on the hot seat? Looking to get back at your coach, teacher, principal, boss, parents or even significant other than one of our awesome dunk tank rentals is your answer!
With over 500 gallons below the VIP, they await in suspense until one of the participants are skilled enough to strike the target with our softball sized dunk tank balls. Nothing better than getting a chance to dunk your favorite person on the all-time classic dunk tank rentals for years in Chicago, IL!
We have options with the best Chicago dunk tank rental prices. How much does it cost to rent one? Well, its relative depending on the event. We have customers who love them for fundraisers, so the cost is meaningless. An easy way to make money for fundraiser ideas is to charge participants a dollar amount for 3 chances at hitting the target. Trust us, you will have people lined up with their wallets open. Since Jump Guy is the go-to place for local dunk tank rentals in Chicago, you have nothing to worry about.
Why Choose Jump Guy for Dunking Booth Rental Chicago?
For over 25 years, we have been providing our customers with quality options for a dunking booth rental Chicago for their events. We only buy from the best and that is Twister Display style with the large tubs with the cool windows in the front. The overall construction is top notch to anyone else in the industry. They are built to withstand any type of event with continue use of dunking. Jump Guy doesn't believe in any version that may resemble a cheap dunk tank rental Chicago. Our customers deserve the best and they can count on us to provide a quality dunking booth.
When renting a dunk tank Chicago for your next event keep in mind the overall dimensions. They are relatively large in size compared to the collapsible style. Often our customers consider them a portable option since they are on wheels, but they need a large gate opening or pathway. At the minimum, the pathway should be 5 feet wide or 60 inches. Our professional delivery crew will deliver and set up your dunk tanks Chicago in a matter of minutes once arrived. We will instruct you how to operate the target mechanism and go over the rules for a safe and fun event.
How to Rent a Dunk Tank Chicago
With our new easy to use website, you can rent a dunk tank Chicago large events need in a few minutes. Just click on the image or hit that Add to Cart red button to start the booking process. It's easy, just follow these simple steps to rent dunk tank Chicago:


Select the Dunk Booth


Choose an Event Date


Select a Start and End Time


Complete Customer and Event Information Fields


Pay the Minimum Deposit Due


Digitally Sign Rental Contract


Once the order is completed, our website will email you a confirmation and receipt. A few reminders about your party will be sent prior to the event date. Our friendly staff will call to arrange your delivery for the event. If at any time you have any questions about your rental, please contact us to discuss.
Frequently Asked Questions on Dunk Tanks for Rent in Chicago
Over the years, we have compiled the most frequently asked questions on our dunk tanks for rent in Chicago from customers. We want to make every attempt to ease your mind when it comes to planning your event and we hope these help in the process. Customer service is our goal and that's why Jump Guy is the premier options for dunk tank rentals near me!
How much to rent a dunk tank?
Our rental price starts at $299.00 depending on any special delivery stipulations. The price will adjust accordingly to your event location, type and rental duration.
How much does a dunk tank cost?
Often our schools and church customers ask about purchasing their own. They can cost anywhere from $2500-5000 depending on the manufacturer and model. Sometimes the cost of renting is a much better option because we keep up the quality of our equipment on a regular basis.
What is the weight limit on the seat?
The weight capacity is 250 pounds for seat that any participant will sit on based on the manufacturer recommendations by Twister Display.
What is the minimum height of the participants to be dunked?
The minimum height is 48 inches per the manufacturer which translated that the participant must be able to stand in the tank above the water. It is not advised or made to swim in.
Is this for kids or adults?
While these can be used for a backyard or school, the participant being dunked must be a minimum of 48 inches tall. Any age of kids can participant in the throwing fun with adult supervision. At this time, this style is not made specifically to be a kid's option. You may look at a reverse dunk tank which is kid friendly.
How much room is needed for setup?
The dimensions are 5' D x 12' W x 7' H so you will need ample room for guests to get in and out of the game. Also, plenty of room in front for the throwing line typically 20-25 feet at most for adults and 10-15 feet for kids.
Do you have any photos or pictures in operation at events?
Yes, check our Facebook or website for additional information. We are always adding new images and videos often of the fun.
How long does the tank take to fill with water and is it included?
The 500-gallon tank takes roughly 1.25-1.50 hours to fill depending on your water pressure using a standard garden hose. Unfortunately, we are unable to deliver it filled or provide water due to its weight at roughly 8 pounds per gallon, that's a lot of weight.