Photo Booth Rentals in Chicago
Photo Booth Package #1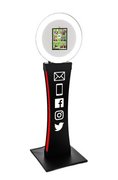 Photo Booth and Backdrop Package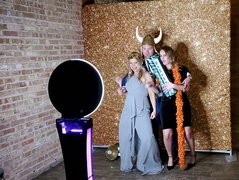 Photo Booth-Backdrop & Props Package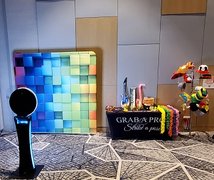 Candy Cane Photo Backdrop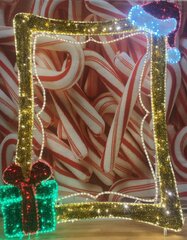 Stanchion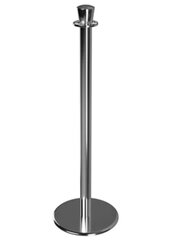 Red Velvet Stanchion Rope 12ft.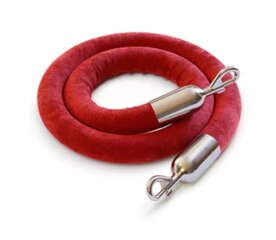 Red Carpet 3ft. W X 40ft. L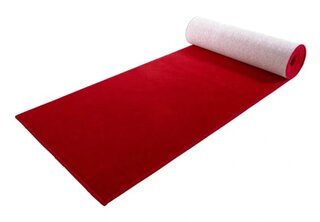 Capture your memories for a lifetime with our new photo booth rentals in Chicago! Here at Jump Guy Party Rentals, we know what it means to encapsulate the memories of your event for years to come so we opted for one of the best ways to do so with the best Chicago photo booth rental. Get everyone involved and get some group photos, a couple of photos, funny individual photos, or whatever else your mind comes to. Grab a prop and strike a pose with our most amazing new photo booth rentals in Chicago!
The open-air style selfie photo booth rentals in Chicago are great for larger sized events because they can accommodate more people in the photo at once. None of those enclosed booths where it's tight to fit just 2-4 people. Why not have 12-16 or even 20 people in a group photo if you can get creative? Our customers love these for weddings, corporate events, social events, birthday parties, and more. Combine them with a sleek backdrop and a table full of props for one of the best party experiences around. One of the hottest party rental items on the market today, our photo booth rentals Chicago.
Best Photo Booth Rentals in Chicago
Creating memories that last a lifetime is something you can't put a price on. That's why we have the best photo booth rentals in Chicago! Chicago photo booth rentals are a great way to give your guest a customizable, creative and memorable way to remember an event. The best part is we can customize or personalize your photo booth to the theme of your event. Whether it's a company branding or social event, we got you covered!
Let us create the most memorable experience with our photo booth rentals Chicago. We have elegant backdrops, props galore, and all the fun stuff for your guests. They can get silly with our fun themed props to engage in the total experience that everyone will be talking about for years to come. With 6 different photo experiences to choose from, your guests are sure to have a blast! Choose from animated gifs, boomerangs, digital props, fun with filters, magic backgrounds, and green screen options, there is something for every type of event!
Types of Photo Booth Rentals Chicago IL by Jump Guy
The new craze for the new generation of partygoers and even planner is our photo booth rentals Chicago IL. At Jump Guy, we have the latest and great with our new compact designed selfie-style booth. Being it can accommodate more of your guests in the picture, it is the most popular of all photo booth rentals in Chicago IL. The coolest new features such as being able to instantly share your photos via text, email, or social sharing on all the popular platforms. No need to walk around with the photo strip any longer, unless you want to. We can offer a digital printer to print out various sized photo strips for your guests to take their memories with them.
We have 3 separate packages to better accommodate your party needs. Browse the different levels to determine which a better fit is for you and see what photo booth rentals Chicago IL cost for your event. All of our packages are standard with 3 hours of photo time. Additional hours can be added for an additional cost of $100 per hour. Trust us for your event to capture those precious moments with your friends, family, and coworkers. We are the top-rated rental company for all your photo booth rentals Chicago suburbs can count on.
Fund raising idea, Rent a photo booth and sell the photo strips for donations. People will love this idea! They get a nice photo and memory and your charity gets the donation. Check out our snow globe for some awesome holiday photo opportunities to go along with your photo booth. Just don't forget the tables and chairs for others to sit down while watching the fun.